Taiwanese Exchange Student To Be Deported After School Shooting Threat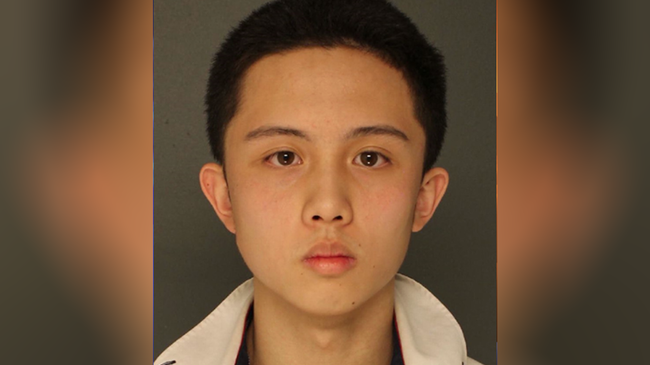 A Taiwanese exchange student accused of threatening to "shoot up" the high school he was attending near Philadelphia, has avoided additional jail time, but he will be deported and barred from ever re-entering the United States, prosecutors said Monday.
After nearly two hours of testimony, a federal judge sentenced An-Tso Sun, (also known as Edward) to time served and deportation. Sun was facing up to ten years in prison and a $250,000 fine for a previously-entered guilty plea to a firearms-related charge.
It all began in March when schools in the area were alerted to Sun talking about a May 1 shooting at Monsignor Bonner and Archbishop Prendergast High SChool in Upper Darby, located outside Philadelphia.
The 18-year-old student said he was joking, but a subsequent search by authorities discovered more than 1,600 rounds of ammunition, and weapons, including a high-powered crossbow, at the home of his host family. He was taken into custody and later pleaded guilty to state terroristic threat charges and was sentenced to 4 to 23 months. He was immediately paroled on Monday, and remanded to federal custody to face charges of an alien in possession of ammunition.
Sun's attorney, Robert Keller, said Sun had "no intention or plans" to commit a school shooting and those items found by authorities were for a Halloween costume contest at school.
Prosecutors say investigators found a military-style ballistic vest, ammunition clip pouches, a high-powered crossbow, and live ammunition inside Sun's bedroom. A search on the school-provided iPad revealed Sun had been searching how to buy an AK-47 or an AR-15 semi-automatic rifle.
Assistant U.S. Attorney Sarah Wolfe from the Eastern District of Pennsylvania said the judge considered a number of factors when determining the sentencing, including the fact that Sun was very young and very immature, and did not appreciate the seriousness of the threat he had made.
"I think also the fact that he is going to be removed from this country permanently, that's a very significant consequence of this conduct," said Wolfe. "The defendant was hoping to attend Temple University for college and that is no longer going to happen. So that is a pretty substantial consequence."
Sun's parents, Taiwanese actor and assistant film director Sun Peng and actress Di Ying have come to the U.S. where they will remain until their son is deported.
According to Sun's attorney, the exchange student will be sent back to live with his parents and grandmother when he returns to Taiwan where he plans to once again attend school.
Photo: Upper Darby Police Department